Andalusia
Andalusia, the land of light, is known for the most sunny days per year on the European mainland, in addition to its varied scenic beauty, flamenco and cultural attractions.
A pleasant breeze from the sea ensures a healthy microclimate. It is pleasantly warm in summer and sunny mild in winter.
Málaga capital of the Costa del Sol, offers a variety of shops, vegetarian restaurants, markets, museums, monuments, the Castle of the Moors, the Alcazaba, and much more. The "Feria de Málaga" (Fair) takes place every year in August, from morning until late at night. During the day in the city centre with music and dance, in the evening with various attractions for young and old, music concerts of all kinds, as well as many other events, such as horse and carriage shows.
Granada with its Alhambra and the Sierra Nevada , Córdoba with the Mezquita, and Seville with the Cathedral and the Giralda, their "Torre del Oro" (The Gold Tower), join together to bring the wonderful history of Andalusia to life, where the East and the West meet, caliphs and kings reigned, where palaces, gardens and cathedrals tell of the splendour of bygone days. The flamenco, which comes from Andalusia, tells us different stories, of love, passion and of longing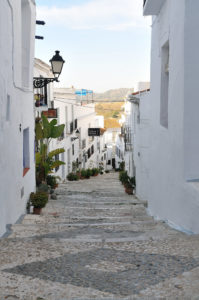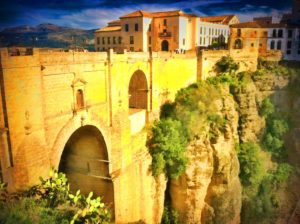 The quiet Andalusia with its pretty white villages, the red-brown hills covered with olive and orange trees and wild rock formations begins just a few kilometers away from the lively coast.