¡Fiesta of the Senses in Andalusia!



¡You will feel the real Andalusia up close at Finca el Morisco!
The Finca el Morisco is 20 km east of Málaga on a hill plateau surrounded by the green finca landscape.
 You are invited to feel the warm earth under the soles of your feet, the Andalusian sun on your skin and the air laden with fresh  sea air blowing through your hair.
Your nose will enjoy the scent of several hundred trees and their flowers and fruits.
The beautiful elevated location of the finca  will provide you with a wonderful view down the valley to the sea and horizon, and a 30 minutes' easy walk will take you to the beach.
Feel hugged by approximately 7 hectares of extensive finca grounds, which invite you to linger in the olive grove or the small palm forest.
Discover the many nooks and crannies, rest and regain your strength in spots
that will inspire and relax you.
The fruit trees on the finca give us fruits such as mango, pomegranate, avocado, figs, lemons, oranges, and papaya, and all  are waiting for you as a finca guest.
We continue to the vegetarian / vegan restaurant, where a rich daily buffet,
including all drinks, await you.
The garden offers vegetables from more than 50 years of organic cultivation,
which we also use for the preparation of meals.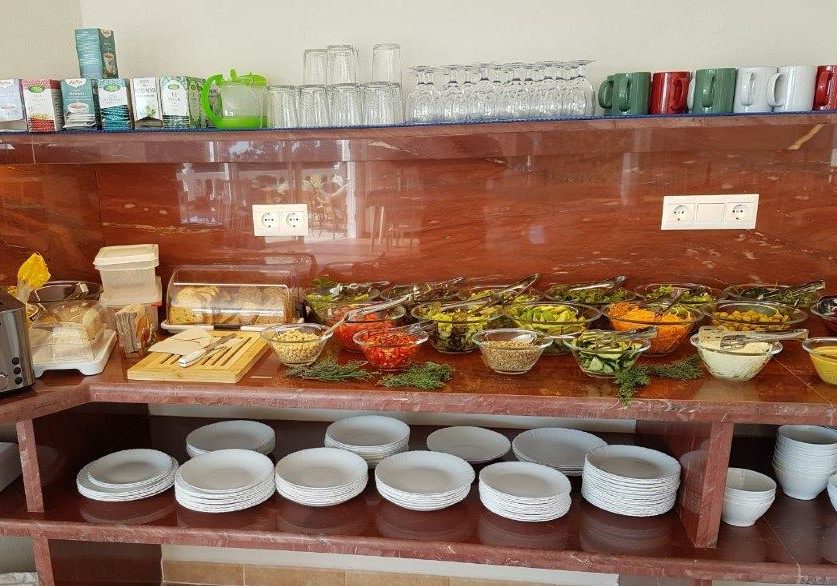 Finca guests can relax in our 20 air-conditioned and heated double rooms.
We are looking forward to your visit.
Greetings from Andalusia, and the Finca team